A Conservative MP has caused anger after she urged people to "stop being so sentimental" about Syrian refugees fleeing the conflict to Europe.
Pauline Latham, the MP for Mid Derbyshire, said that Syrian refugees who had made it to Europe were not under threat and were in safe countries. She said taking in refugees was acting as "pull factor" and that it would be best for them to stay in their home region.
The comments, which the MP later said were "misconstrued" and a "poor choice of words", came in a debate in the House of Commons about the Government's closure of the Dubs scheme on child refugees.
The Government had been expected to take 3,000 unaccompanied child refugees in from camps in Europe but instead closed the scheme after 350. Ministers said they believe the scheme was acting as an "incentive" for children to travel to Europe as refugees.
Ms Latham said that reported poor conditions in the camps, such as rat infestation, were not a matter for the UK.
"We do need to provide as much as we can to keep the people in the [Middle East] region because what most Syrians want to do is to go home once it is safe to do so. If they've come here they will not be able to go home as easily," she told MPs.
"I would like to say that although I understand the sentiments of what people say we should stop being so sentimental and we should actually be looking at what the best thing to do for these families and children [is] which is to keep them in the region – and that's what this government are doing."
The MP's comments elicited shouts of anger from other MPs in the chamber.
SNP Chris Law, who was speaking straight after Ms Latham said he was "shocked, actually, to hear the last comments about sentimentality".
"Many children in Greece find themselves in detention centres where they're made to sleep in crowded, dirty, rat infested cells, often without mattresses and are deprived of basic sanitation and privacy," he said.
"It is reported that some boys are even turning to prostitution to keep themselves alive. If I am sentimental for bringing this up then I am very proud to be so because these are some of the basic facts."
Ms Latham interjected to respond: "If we're talking about Greece and being rat infested and no mattresses, whose fault is that? That's Greece's fault and they should be helping those children."
Mr Law replied: "A simple fact of the matter: the world is a small place and we all belong in it."
Labour MP Stella Creasy said Ms Latham should tell herself "whatever [she] has to tell herself to sleep at night".
"The member of mid Derbyshire talks about other countries and their responsibilities – she is right, I agree with her, France, Greece, Italy, we should all be doing more. But because one country is not doing enough does not absolve us of doing our bit we could do, and that is the problem," she argued.
She later added: "Whatever the member for mid Derbyshire has to tell herself to sleep at night about this issue, let her tell herself that.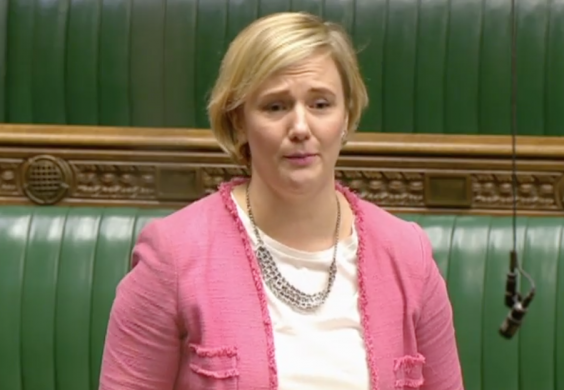 "Let us not as a house decry these children but stand up for them, because that is the best tradition, that is what will keep them safe and that is what will do justice to this House and this country."
Ms Latham said in a statement issued after the debate that her comments had been "misconstrued". She added that she had used a "poor choice of words".
"I fear I have been misconstrued in my speech today. I claimed we must think logically and not sentimentally in order to do what is best for the children. As I stated, 'we should stop being so sentimental and we should actually be looking at what the best thing to do [is] for these families and children'," she said.
"I admit this was not the best choice of words from me, and what I meant is that we should analyse the issue objectively to provide the most useful help and ensure the greatest level of safety for the children, not that we should not care. I visited a Jordanian refugee camp out of concern for refugees, not a lack of it."
In the debate on Thursday, MPs from all parties – including the Conservatives – were critical of the Government's early closure of the scheme.
On Wednesday, charity representatives told MPs on the Home Affairs Select Committee that people traffickers were likely to benefit from a £20m windfall due to the closure of the scheme as children turned to illegal means of getting to the UK.
Others warned of "severe confusion" on the ground among the children over what the UK's policy was.
Comments