Five people are reported to have been killed in a shooting at a mosque in Quebec City, Canada.
Shots were fired at the Quebec Islamic Cultural Centre on Sunday night, where dozens had gathered for evening prayers.
Two people have been arrested but the investigation is ongoing, police said.
Police have not yet suggested a motive, although Prime Minister Justin Trudeau described the shooting as a "terrorist attack".
The centre's president told reporters that five people had been killed but police have not yet provided any numbers for the dead and injured.
Mr Trudeau said he heard of the news "with tremendous shock, sadness and anger".
"We condemn this terrorist attack on Muslims in a centre of worship and refuge," he said in a statement.
"While authorities are still investigating and details continue to be confirmed, it is heart-wrenching to see such senseless violence. Diversity is our strength, and religious tolerance is a value that we, as Canadians, hold dear."
Quebec Premier Philippe Couillard also referred to the shooting as a terrorist attack, condemning it as "barbaric violence". He expressed solidarity with Muslims in Quebec.
A witness told Reuters news agency that up to three gunmen had been involved. The news agency also reported that a "heavily armed police tactical squad" had been seen entering the mosque.
Police later said the area was secure and the situation was "under control".
Local newspaper Le Soleil said it had obtained information that one of the suspects was a 27-year-old with "a Quebec name", and one had an AK-47 automatic weapon in his possession. Police, however, have not released such details.
The shooting happened at the mosque on chemin Sainte-Foy, one of two operated by the Islamic centre.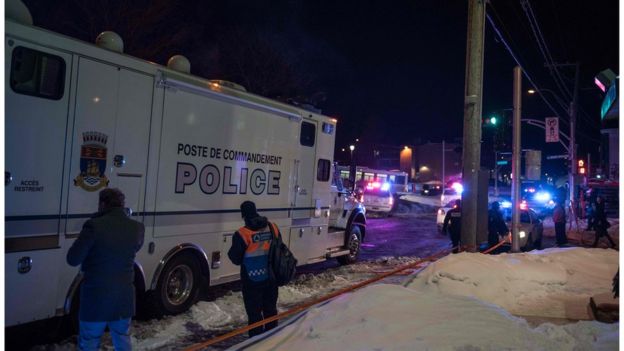 Police arrived on the scene and made two arrests
The president of the mosque, Mohamed Yangui – who was not inside when the shooting happened – told Reuters he did not know how many people were injured, but they had been taken to hospitals across Quebec.
"Why is this happening here? This is barbaric," he said.
The same mosque had a "gift-wrapped" pig's head left on its doorstep in June last year, with a note reading "bonne appetit". Muslims do not eat pork.
Comments