A fundraiser led by American Muslims has raised more than $80,000 to help repair a vandalized Jewish cemetery ― more than four times the initial goal.
The campaign reached its goal of $20,000 within three hours of launching on Tuesday. By Wednesday, the page had soared past $80,000. The fundraiser will remain open until March 21. The funds collected will first go toward restoring the 124-year-old Chesed Shel Emeth Cemetery, and any additional funds raised will "assist other vandalized Jewish centers nationwide," according to the LaunchGood page.
"Through this campaign, we hope to send a united message from the Jewish and Muslim communities that there is no place for this type of hate, desecration, and violence in America," the organizers wrote on their fundraising page. "We pray that this restores a sense of security and peace to the Jewish-American community who has undoubtedly been shaken by this event."
On Facebook, El-Messidi said he'd been getting hundreds of thank-you notes from American Jews for helping to spearhead this initiative.
"The anti-Semitic threats targeting our Jewish community and Jewish community centers are horrible and painful and a very sad reminder of the work that must be done to root out hate and prejudice and evil," Trump said during a visit to National Museum of African American History and Culture in Washington, D.C.
On Wednesday, Vice President Michael Pence made an unannounced visit to Chesed Shel Emeth Cemetery and condemned the vandalism.
"There is no place in America for hatred, prejudice, or acts of violence, or anti-Semitism," Pence said, according to Fox2Now St. Louis.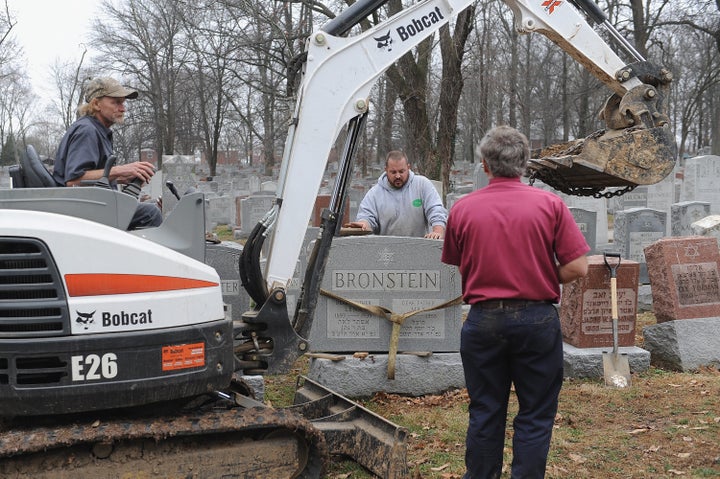 El-Messidi told The Washington Post that the solidarity between American Muslims and Jews is a silver lining to the latest election cycle.
"Out of this horrible election cycle, something beautiful has come out of it and [Muslims and Jews have] bonded together to support each other and stand up to this hate," El-Messidi said. "Politics can get in the way of our basic humanity; I hope this breaks through all those walls, no pun intended, to help bring us closer together."
Comments